I hope everyone had a wonderful Christmas! Ours was quite good, even though I of course did not finish all the handmade gifts I had planned. I really thought I'd have plenty of time this year because I had Fridays off during December (in exchange for working Sundays), and thus had some prime crafting time while Parker was at school. But I think the short time period between Thanksgiving and Christmas really tripped me up.
But, the gifts I did make went over pretty well, I think! Here are a few highlights, with more to come!
For my niece and my best friend's daughter, I made matching robes for the girls and their American Girl dolls. I know Simplicity makes a doll robe pattern, but it was sold out at my local Jo-Ann Fabrics, so I modified a pajama pattern I found at the American Girl Playthings website, basically by making the collar rounded and making the top longer. For the big-girl versions, I used Butterick 5724.
Here's the set I sent to my friend's daughter: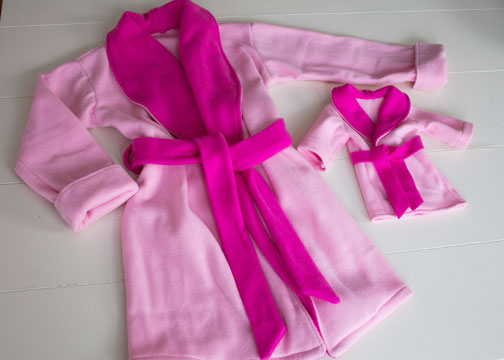 And here's the set for my niece: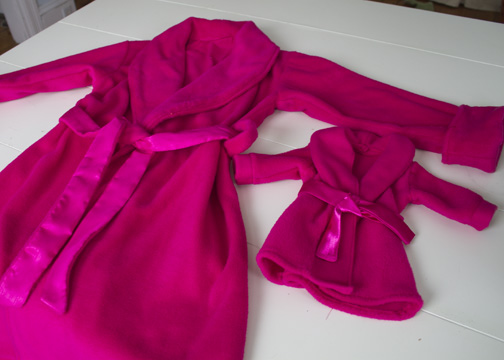 Also for my niece, I made a doll-sized Hogwarts outfit, since she is a big Harry Potter fan. (See previous posts for her Harry Potter birthday gifts and last year's Christmas gifts).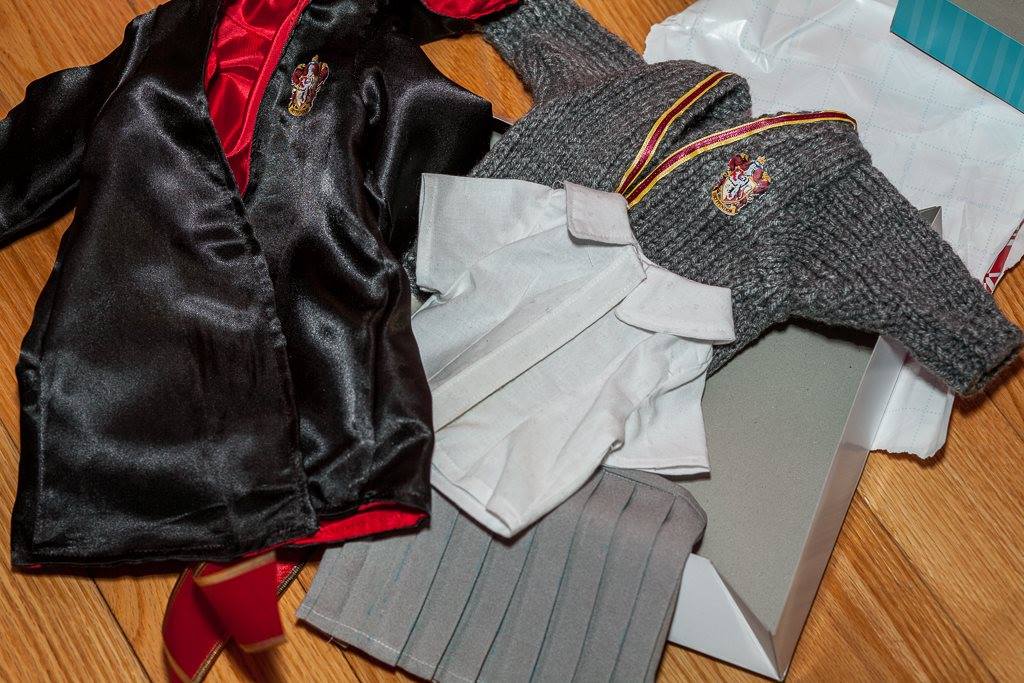 I found the robe pattern at a blog called Arts and Crafts for your American Girl Doll. I forgot how much I hate sewing with slippery fabric, in this case, cheap satin leftover from the reversible, 4-in-1 capes I made years ago. I could not figure out how to do a hidden hem on the sleeves with the lining, and I was running out of time so I just sewed it by machine,and it looks pretty messy.  The sweater is a modified version of the Cardigan for 18 inch Dolls on Ravelry.com. This was my first-ever knitted sweater. It was easier than I expected, though I'm still not sure I picked up the stitches for the sleeves correctly, and I really had a tough time sewing the side seams. I just glued on the ribbon trim. The skirt is from McCalls 3900, the top is a simplified version of Butterick 4089.