I finally crossed another item off my "Finish First" list, just in time for Halloween. This took all of five minutes to finish, so it's really ridiculous that I took years to get around to it.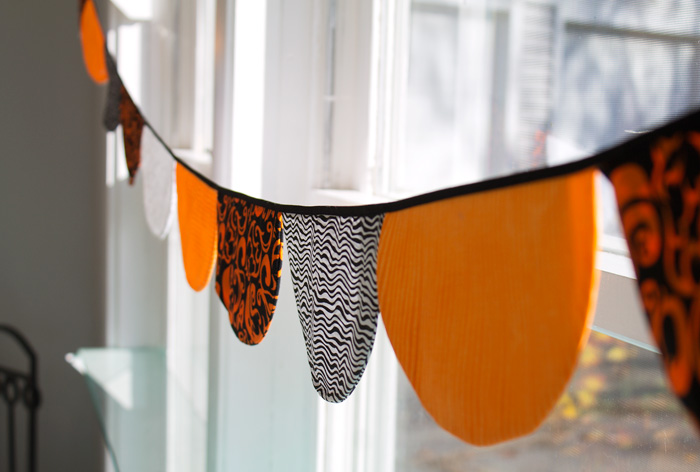 Our newly renovated living room still is a bit of a work in progress. We still have some touch-up painting to do, and I still have to make a slipcover for one of our old chairs. And figure out what to put on the walls, and how to deal with the windows. Before this room was enlarged during our renovation, we didn't use it much because it was so narrow there wasn't room for much furniture. So it didn't bother me that we have nothing on the windows. But now that we use it a lot more, it feels a bit exposed at night. The windows are huge, but they have glass shelves running across them, which means curtains won't really work. I'm thinking that sheer shades that hang behind the shelves would work,  because there is a bit of room between the windows and the shelves, but they are expensive given the non-standard sizes of the windows. So for now, they're only covered by this bunting! (You can find my tutorial on how to make one HERE)
It helps to have a black cat this time of year. He is like a living Halloween decoration!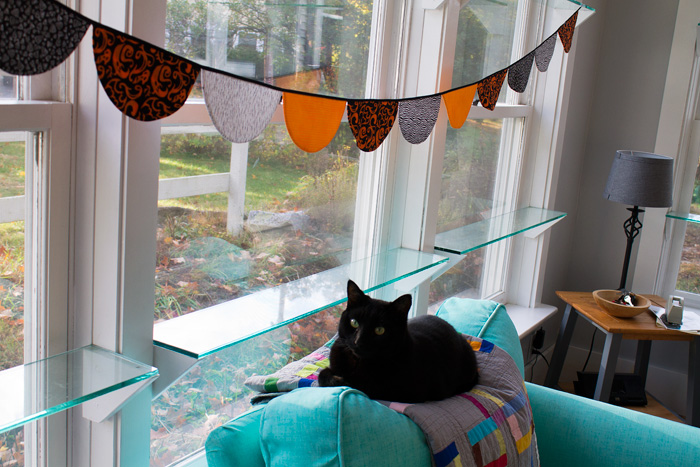 This blue chair is one of our old Ikea Ektorp chairs. The cats had shredded the original brown cover, so I cut it apart and used it as a pattern to make a new cover. I chose an indoor/outdoor fabric given how sunny this room is (Robert Allen's Baja Linen, color is "Pool") and hoping that it would stand up better to wear and tear. Unfortunately, the cats have already scratched the arms a few times, even though there is a scratching post nearby. I tried using some double-stick tape on the chair to deter them, but it peeled right off because the fabric is so smooth. Anyone have other suggestions?
We purchased a new couch from Pottery Barn because thanks to a mix-up on some lights we had ordered, we managed to get a 30 percent off discount. I also purchased two yards of matching fabric from Pottery Barn and used to re-cover our old ottoman. Pottery Barn sells an ottoman like this for more than $500, so that $40 worth of fabric was money well spent. (Now that I look at this picture, one 'flap' on the ottoman looks a bit too long. I'll have to take that side in a bit) You can also see the corner of the blue chair: I somehow cut/measured wrong, and the slipcover wasn't long enough, so I cut it off and used Velcro to wrap the fabric around the base of the chair, leaving the legs exposed. I still need to adjust the fabric a bit, but I think  it makes the chair look a bit more modern). The other chair will be covered in a gray and white print.