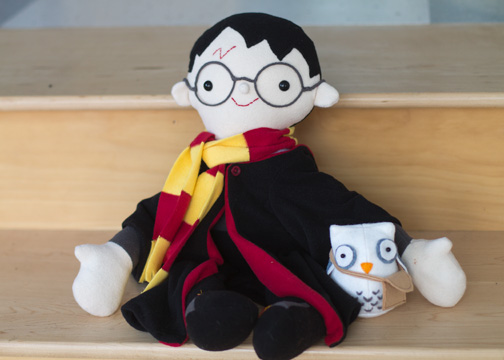 Let me confess right up front: I strongly dislike the word "softie." Almost as much as I hate the words "selfie" and "hoodie." Yet here I am, entering the Spectacular Softies Contest at Sew, Mama, Sew!
The timing was perfect, because I wanted to make something for my best friend's daughter, who has a birthday at the end of this month. I've been on a bit of a Harry Potter kick with gifts for both her and her brother, so I decided to continue with a doll version of the boy wizard himself.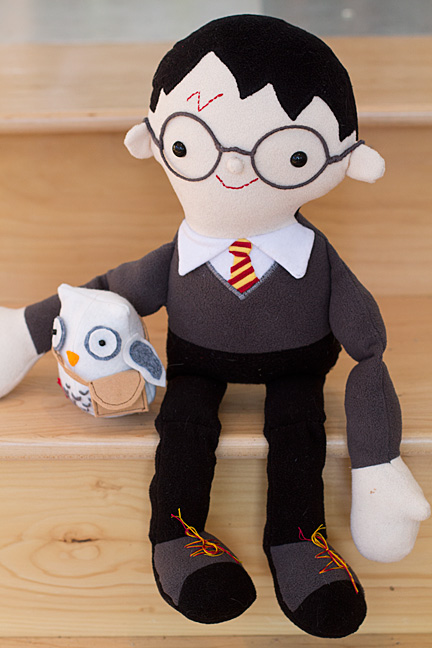 Rather than reinvent the wheel, I turned to the Liam doll pattern by Abby Glassenberg. I considered making removable clothing but decided I liked the look of the "all in one" original, so I modified it slightly to incorporate the shirt, tie and sweater as part of the doll. (Similar to how the face piece is handled, I added some interfacing to give some stability to the shirt front piece, and then essentially appliqued the tie and sweater on top. The collar is made from triangle pieces of fabric, sort of like how you'd sew ears… triangles sewed on two sides then turned right-side-out and then sandwiched in between the head and body pieces).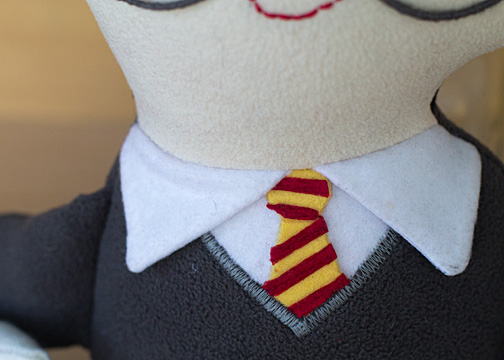 I took all the advice from the #sixweeksofsofties posts at Sew, Mama, Sew to heart and spent a long time carefully stuffing the finished doll. (I went a bit overboard and now one of the neck seams is popping a bit! Must fix that before I put this guy in the mail). And I went through about five different ideas for the glasses, ranging from embroidering them directly on the face to trying to make glasses out of stiffened yarn. What I ended up with: shaping thin wire into the correct shape and then wrapping it with gray yarn.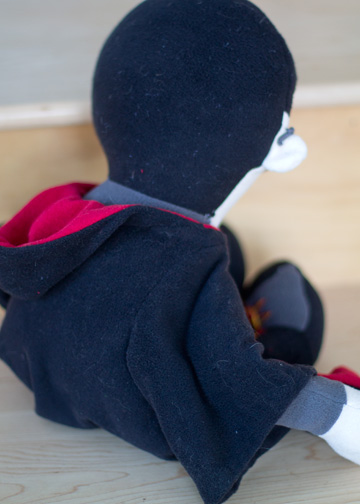 The robe was a challenge. I started with this pattern, which I had used previously for an American Girl doll, then altered the width, neckline and arm openings to better fit the shape of my doll. But I really did not want to make a lined robe out of fleece because it would be too bulky, so I found this pattern  and resized to approximately the correct length. I ended up using the hood pattern from the second site, even though it doesn't at all fit the doll's head (Harry rarely puts his hood up anyway, right?)  and then drafting the red facing just by trial and error.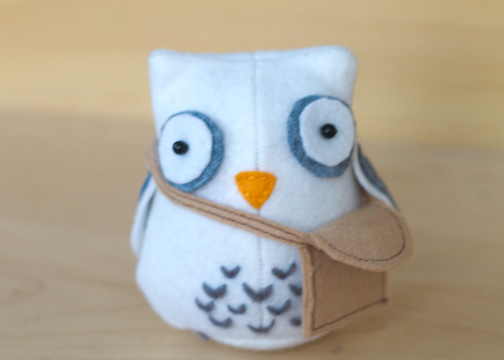 I had planned to find a generic owl pattern for Hedwig, and then was thrilled that one of the Sew, Mama, Sew posts led me to the Owl Post pattern by Ric Rac. (When I asked my 10-year-old whether he liked the doll and owl, his first comment was: "Hedwig doesn't carry a mail bag." Such a stickler!