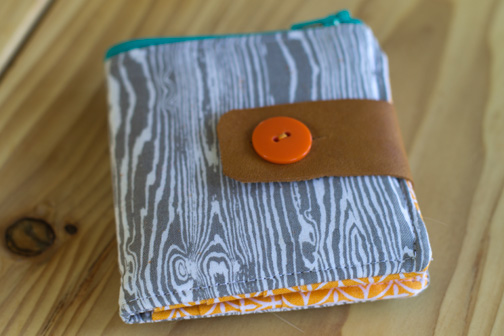 A few weeks ago, I decided the wallet I made myself two years ago was a bit too small, and had grown rather dingy. I came across this bi-fold wallet tutorial at Modest Maven and thought it might be just the thing. Plenty of room for cards, but it still folds up to a fairly small size. I liked the fact that it also has a large pocket for bills, though I almost never carry cash. But then it occurred to me: why not turn that pocket into a zippered pocket? The way the wallet is constructed is very similar to how you'd make a zippered pouch, except one "exterior" piece has extra layers for the card slots. (which then becomes the interior of the wallet when you fold it in half)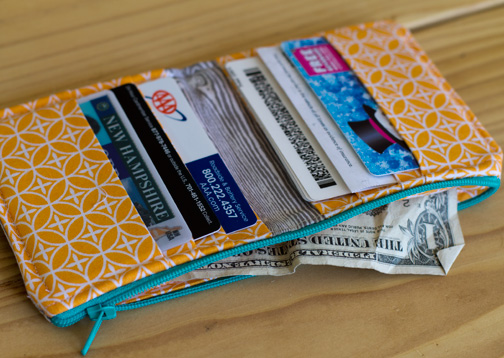 Essentially, I followed the instructions for the wallet, and combined them with these instructions for a zippered pouch at Skip to My Lou. Something went a bit wonky and my card slots on the left (in the picture below) are not quite as deep as the slots on the right, but I think that was just my carelessness.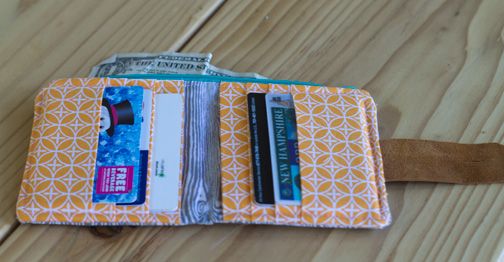 Instead of a fabric and snap closure, I used a button and a scrap of leather leftover from these denim bags I made way back in 2010! If I remember correctly, I spent $5 or $7 on a leather jacket at a thrift store and cut it up to make handles for the bags.