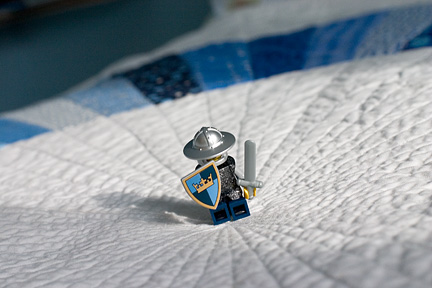 When it was time to redecorate my son's room last winter, he had just abandoned his fascination with dinosaurs and was heavy into knights. Since then, we've cycled through trains and now we're on to a consuming passion for Richard Scarry books. So my husband and I knew better than to design his room around his obsession du jour. Instead, we let Parker pick the wall color and added a few small touches that reflected his interests.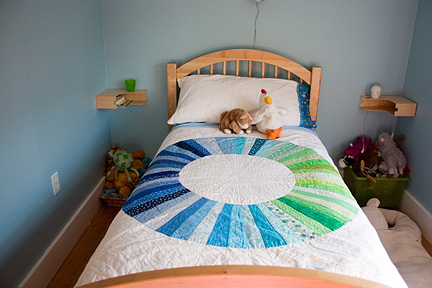 I made the Colorwheel Quilt from Joelle Hoverson's Last-Minute Patchwork + Quilted Gifts, changing the rainbow color scheme to blues and greens, and told him to think of the circle as King Arthur's round table. I used the leftover fabric to make a curtain for his closet, dyed the formerly yellow slipcover I had made for his chair a nice apple green and made very simple faux Roman shades for the windows.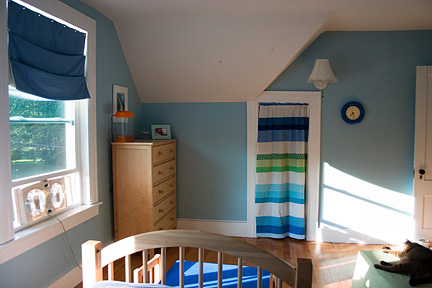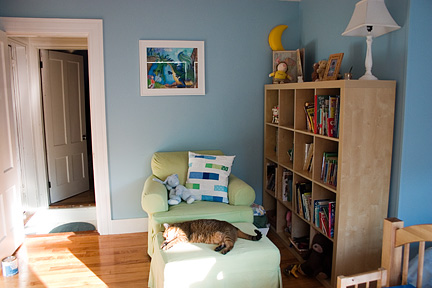 To make the shades: I cut rectangles out of the solid blue linen-blend fabric and window shade lining an inch larger than the inside measurement of the window, sewed them together leaving an opening for turning and then turned the panel right side out and sewed the opening by hand. I added grommets along the top edge and the sides, and cup hooks screwed into the window frame to hang the panels.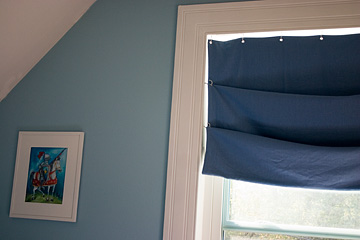 The knight theme was limited to a few prints purchased from Bealoo Art Designs, and a pillowcase I made for his bed.  The pillowcase was so easy, I've made several more as gifts for other kids, and wrote an article and tutorial you can find HERE or on my tutorials pages above.
I admit, I wasn't eager to re-do his room because I still loved his "nursery." But I preserved a bit of it by including a piece of fabric from his baby quilt in the new quilt. Now if I could just find some Richard Scarry fabric….