"Mommy, Memere bought me a Shrek advent calendar!"
Not the words you want to hear when you've spent the last month lovingly recreating the handmade Advent calendar from your own childhood for your (ungrateful) five-year-old son. At first, he informed me that I could give my version to one of his friends, but once he saw it, he redeemed himself by being appropriately impressed. And I'm quite impressed that I managed to finish it with a week to spare.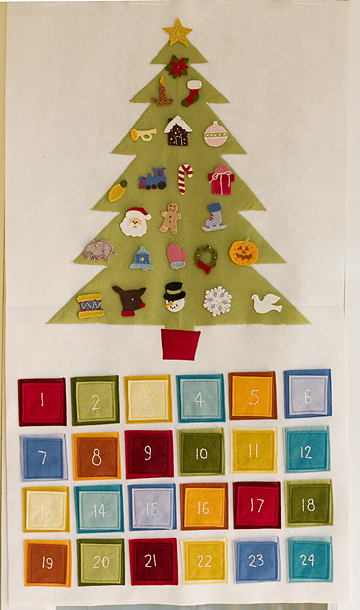 I was inspired by the embroidered felt Advent calendar at The Purl Bee, though I am not good at embroidery at all, and though all my squares looked nice and crisp when I cut them out, they are all wonky now that they're sewed on.
Here's the calendar my mom made for me and my twin sister when were about four. She saw a similar one at a neighbor's house and made her own, adding the pockets so each day's ornament would be a surprise. Most of the ornaments were lost or mangled, so I made 24 new ornaments, replaced the yarn stitching around the edges, glued on some new sequins to replace a few that had fallen off, and gave the new-and-improved calendar to my sister for my niece and nephew.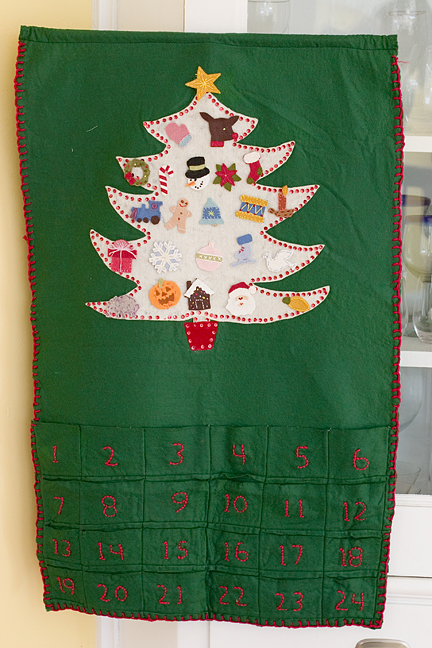 Here's a close-up of some of the ornaments. I used wool-blend felt for everything, and almost all the shapes are from Microsoft clip art. I used bits of "Fabric Fusion" iron-on Velcro on the back, just the prickly side, which seems to work OK to stick the ornaments to the tree.  I tried to include most of the same shapes from the original, hence the jack o'lantern and elephant, which strike me as a bit unusual Christmas ornaments.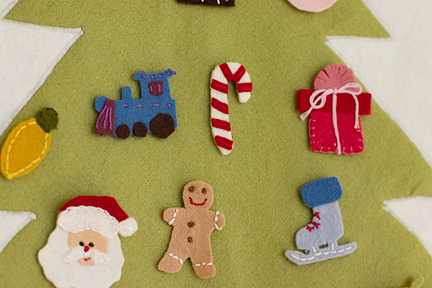 Let the holidays begin!