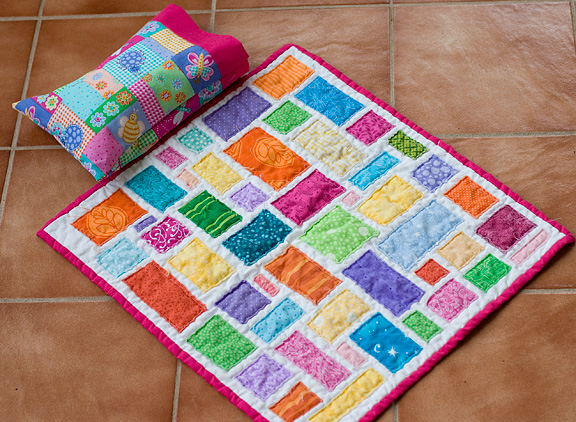 As my son gets invited to more and more birthday parties, I've noticed the trend of kids NOT opening their gifts during the party. I understand the reasons for it, but I also think it's nice for my son to see his friend open the gift he brought, rather than have it squirreled away to be opened in private later. And to be honest, it especially irks me when I've made someone a gift, because I want to see the reaction. (and to be REALLY honest, I like hearing the praise of other adults who appreciate the work that went into the gift!) This particular gift was given to one of Parker's girl friends/girlfriends. Back in November, we had this conversation:
Parker:  I've realized that I love A.
Me: (surprised silence)
Parker:  I thought you'd be happy for me!
A. is a wonderful little girl, but their mutual affection seems to have cooled down a bit to friendship, which I think is appropriate for two kindergarteners!
I made the pillow case using my tutorial (minus the trim between the cuff and the body), and the quilt using this Ticker Tape Quilt tutorial at Sew,Mama,Sew! The scraps were all leftover from the Paintbox Quilt I'm getting close to finishing! I forgot to take a picture, but the back is the same print as the pillowcase, which looks nice with the rectangular quilting lines. Who knows? Maybe this quilt will end up being passed down to my future grandchild! Ha.
The happy couple last fall: