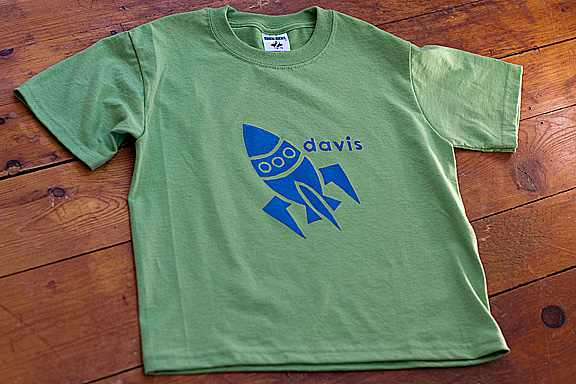 This was my first attempt at freezer paper stenciling and I'm quite happy with it. I made this shirt for one of my son's friends who was turning 5. (The party was at a science museum and when we saw someone walking in with a huge silver balloon shaped like an "S," both my husband and I thought it must be for another party because the birthday boy's name was Davis. So we were quite perplexed to find out it was indeed for the party we were attending. I was trying to think what else could start with "S." Superman? It took an embarrassingly long time for it to dawn on us that, duh, it was a FIVE not an "S.")
I used an image from Microsoft clipart for the rocket. I printed the image and the lettering directly on the freezer paper by cutting the freezer paper to 8.5 X 11 inches and ironing it to a piece of plain copy paper. That way, I was able to run it through my ink jet printer. I then removed the copy paper, cut out the image and the letters using an X-acto knife and ironed the stencil onto the t-shirt.
I accidentally bought "velvet" fabric paint, which gives the design a slightly fuzzy appearance when you hold a steamy iron over the finished shirt once everything is dry.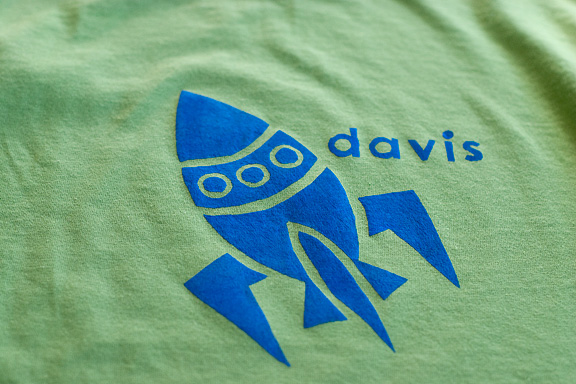 I also made a robot version for Parker, using the robot font I used to make his matching game. Every time I look at it I notice how off-center the design is, but he doesn't care.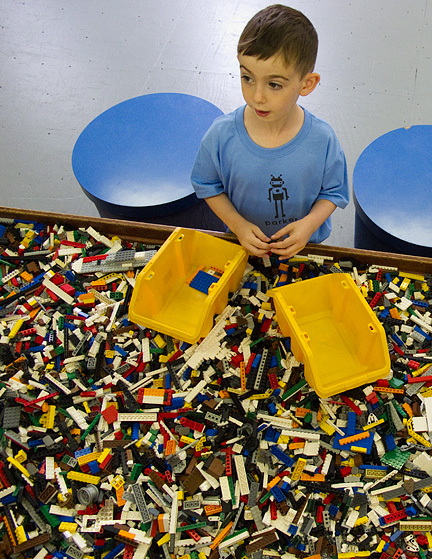 The science center also has an enormous LEGO model of the historic millyard where the center is located. Pretty amazing.