Now that it's fall, I'm finally getting around to posting the two dresses I made this summer, both for the same wedding. The first was Burda 8071, the one I posted earlier asking advice on whether to add the flounce around the bottom. I did not end up going with the flounce, in large part because I wanted to be DONE with it, but overall I really like this dress. I ended up wearing it to two different weddings. I LOVE the feeling of the cotton voile, though it is quite sheer, so having to wear a full slip (basically a stretchy tube from bust to knees!) sort of canceled that out.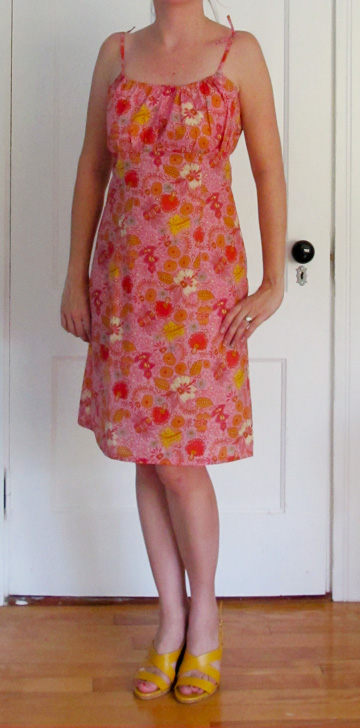 Here it is at the wedding we went to in Washington, D.C. There was the wedding and lunch, and then a hotel rooftop pool party later that night. I expected the evening event to be fancier but it turned out most people got more dressed up for the ceremony/lunch.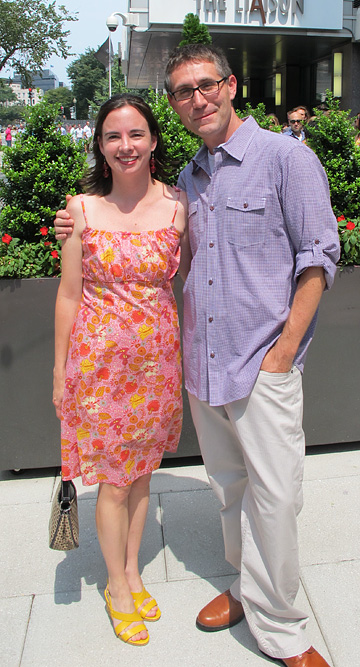 The second dress is from a pattern I bought at Burdastyle.com, #125 from the June issue of the magazine. This was a frustrating experience, not the sewing of the dress, but just getting the pattern. I wasn't able to download it after I paid for it for four days, which I think is totally unacceptable. For once, I had some long stretches of time to work on it that weekend, but had to wait several days to actually get the pattern. My e-mails to customer support and comments left in the forums there were ignored for several days. That said, I was mostly pleased with the pattern once I got it. I made it from some polyester charmeuse that I bought for $2.50 a yard. I love the ombre effect, but the downside was that the fabric was an unattractive pale purple on the reverse side, meaning I couldn't do a single thickness of fabric for the ruffle as the pattern calls for. I ended up cutting out the LONG spiraling ruffle piece twice and making the ruffle double-layered. That made it bulkier than I would have liked. On the other hand, I didn't have to do a tiny narrow hem. After figuring out that I could pull the dress over my head, I also left out the back zipper, which saved quite a bit of time (I have never sewn a lining to a zipper, and maybe I never will!)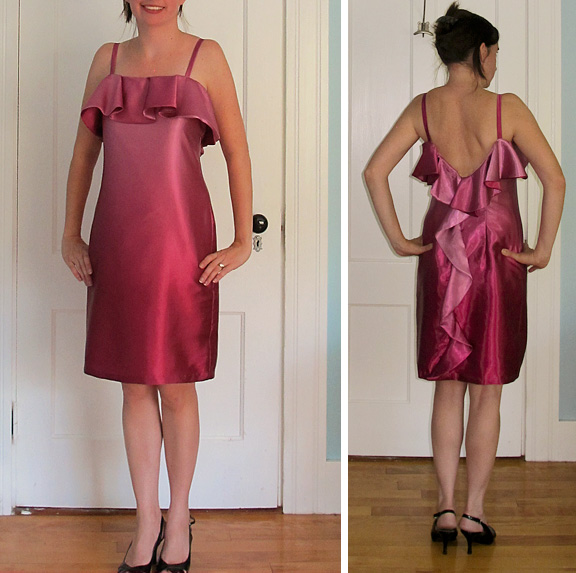 These are NOT the shoes I wore to the wedding. I have some pretty greyish/silver sandals that my sister later borrowed and hasn't returned!
Here's a shot from the wedding: