(Click HERE to go directly to my Sew,Mama,Sew! giveaway post)
I know it's getting late for new ideas for Christmas crafts, but here's a bunch of stuff I made recently for an article I wrote for The Associated Press on turning children's artwork into Christmas gifts.
My friend was kind enough to lend me some wonderful samples of her daughters' artwork once I realized that my son's "portfolio" didn't have quite the range I was looking for.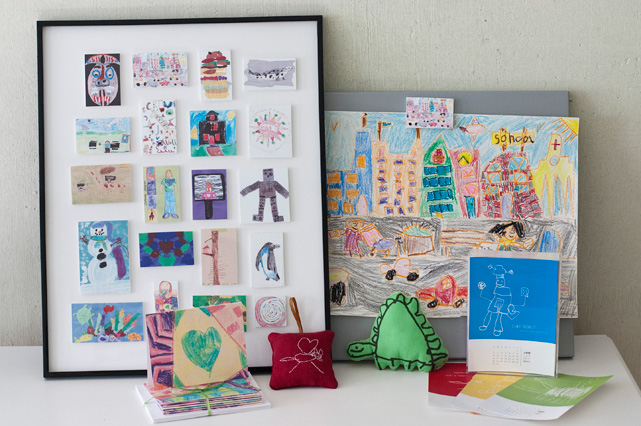 All of these projects started with scanning the artwork. My favorite is the framed collection of mini-prints. It looks small in this picture, but the frame is 16″ X 20″. I know there are companies out there that will create similar collages, but they cost hundreds of dollars. This was a very inexpensive project. The others include notecards, calendars, magnets, stuffed animals and ornaments.
You can read the article and see more pictures here:
AP article on using kids' artwork for gifts