I love this Retro Robot Plushie pattern by Gulf Coast Cottage. The first time I made it was last spring, as a gift for my son when he had his tonsils out. That time, I enlarged the pattern a bit, and used different colors of felt to make striped arms and legs. This time, I made it for a colleague who is having a baby boy soon. With a baby/toddler in mind, I made it all out of fleece instead of felt, and made it so all the seams are on the inside (the original is handsewn on the outside). I also machine stitched all the decorations on instead of hand-stitching. I actually didn't like how it looked right up until I attached the arms, and then I thought he looked pretty cute! Predictably, when Parker saw it, he asked me to make him one. When I reminded him that I already had, he quizzed me on each feature. "Does mine have this button? This dial?" So we fished his out from the pile of stuffed animals in his room and he finally was satisfied.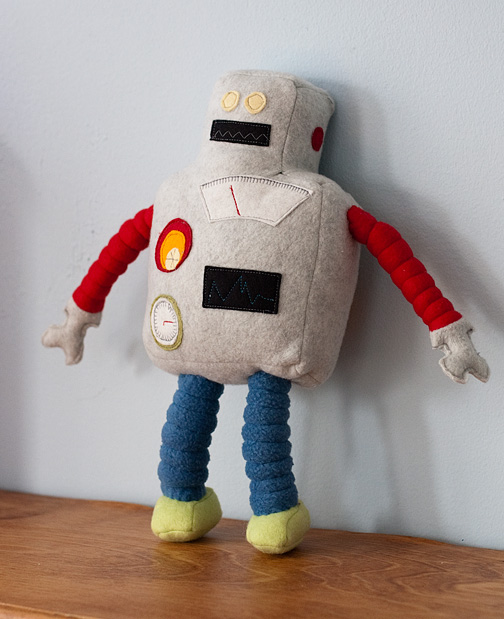 I actually had intended to make the "Katie Kitty" stuffed animal from the new "Wee Wonderfuls" book, and was planning on making it a boy cat instead of a girl. But I could not for the life of me figure out how to sew the head pieces together. I did it twice and both times ended up with very odd shaped heads. After looking at the Flickr group for help, I think I've figured out what I was doing wrong. I'll have to try it again!
I still need to deliver this little outfit for another friend's new baby girl. I used patterns from Making Baby's Clothes by Robert Merrett. I love the little top, which was suprisingly easy to make. I altered the pants a bit to make them reversible, and a bit warmer. The outside is a dark denim, and the inside is the same hippo print (from IKEA).