I'm covering all my holiday bases these days_ making Christmas presents that look more appropriate for Thanksgiving, and getting ready for Halloween. (My husband is on a similarly scrambled schedule _ the AP test kitchen has been testing turkey recipes this week, along with Christmas cookies).
First, I decided that I'm just not up for sewing more Barbie clothes for my niece. I'm going to make her a bunch of polymer clay food for her dollhouse instead, since I have a lot of clay leftover from making the polymer clay food charms from years past. Those charms were a bit larger than what I gather is the 1:12 scale used for dollhouses, so I searched online and found a ton of tutorials (many on YouTube) on how to make various dollhouse food items.
My first project was this Thanksgiving turkey. (I should have added a coin for reference. The platter is about 1.5″ long)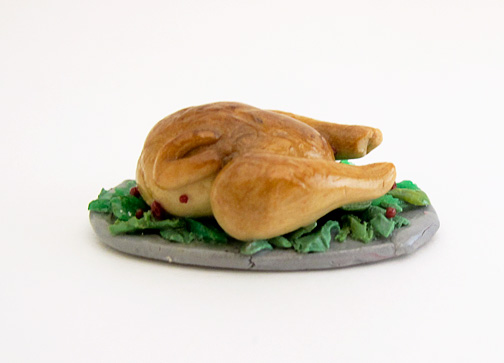 And some bread, using this tutorial by Betsy Niederer. (Mine looks pretty good, but hers are AMAZING).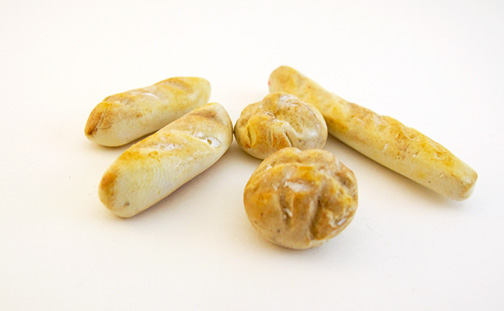 And a few donuts. These were kind of rushed, so I want to make some more and do a better job with the chocolate glaze, and add some sprinkles, etc. I made the box with my Silhouette machine, just shrinking down one of the box patterns and setting the cut settings very low, so the cardstock was just scored instead of cut.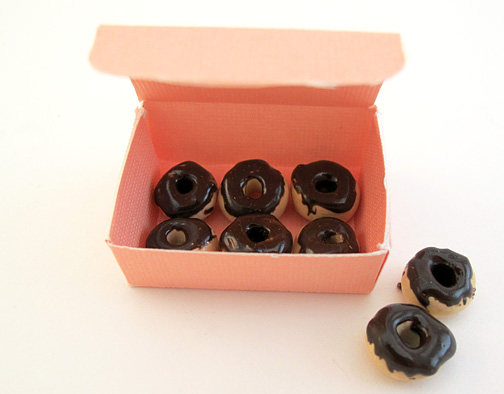 I made a turkey for my son, as well, and he quickly appropriated the bread and donuts for his "cat tree house." I'll definitely have to make him more. Just these few items were enough to spur several hours worth of quiet play! We made little plates out of silver cardstock and set up a rather fancy feast for all his little cat figures.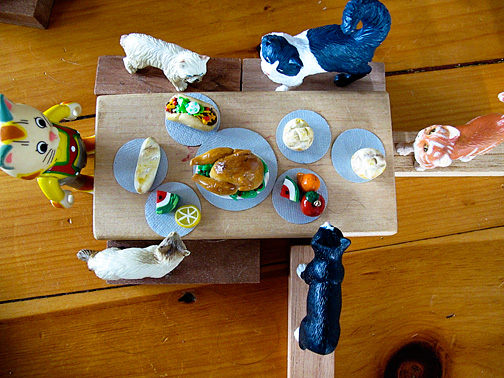 As for Halloween… I started making Parker's mummy costume by ripping up some muslin into strips and tea dyeing it. My plan is to sew the strips to sweatpants and a sweatshirt. Though yesterday he informed me that he does not want to go to his school party because he's worried the kids will think he's wearing toilet paper. Sigh.