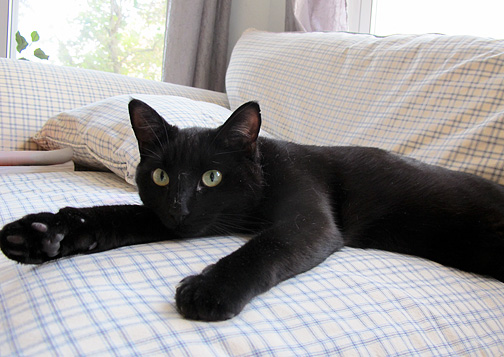 Now that it's been a year since we took in our black cat, Herbie, we definitely believe black cats are GOOD luck. He is so sweet and affectionate, and silly. (He likes jump in the tub when we're filling it up to drink the water, and will stay in there until the water gets all the way up to his belly if we let him). So in honor of Herbie and Halloween, here are two black cat craft projects: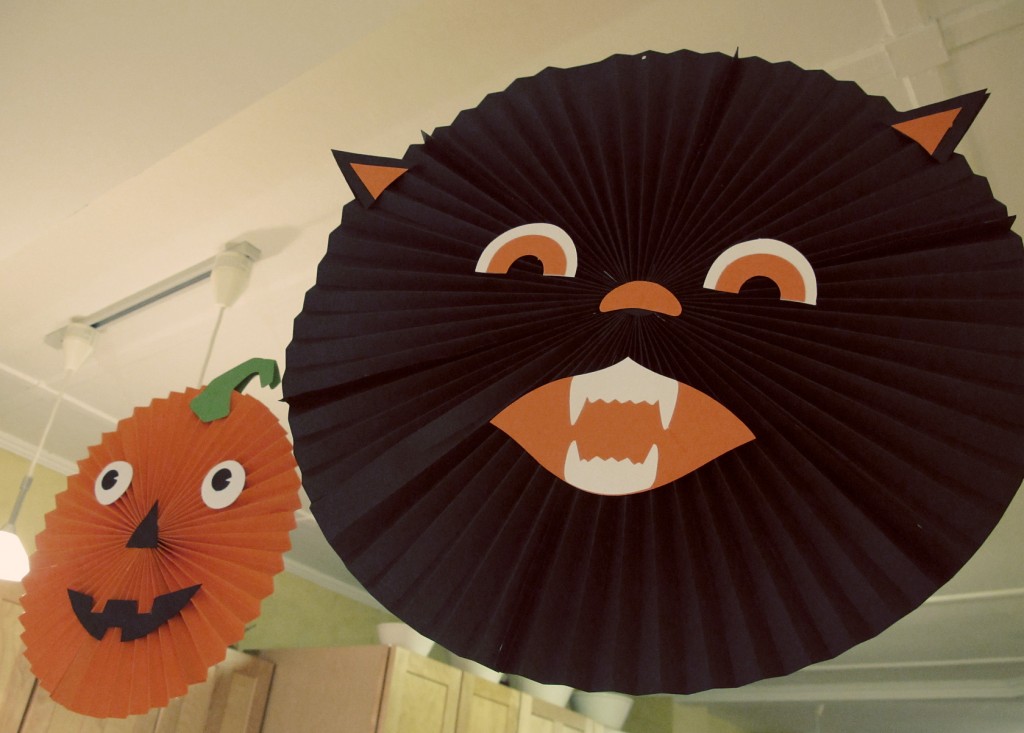 First, I tried these "Halloween Hang-ups" from Martha Stewart's website. I knew from past experience that I'm horrible at making accordion folds evenly, so this time, I used my Silhouette machine to score the paper. It worked great! I just used the Silhouette software to make a cutting file of evenly spaced lines, and then set it on a very shallow cutting setting (I think I used the copy paper setting). So when I put the cardstock through the machine, it didn't cut all the way through. From putting the paper in the machine to having a completely folded sheet took under 3 minutes per sheet.
That said, putting the actual circles together was a bit tricky. The smaller, pumpkin design uses 3 sheets of paper. (you're supposed to fold them in half after accordion folding them, but my cardstock was thick and it didn't look good, so I just cut the pages in half). The cat design uses six sheets of paper. It is almost 18″ across and that's the MEDIUM size. I didn't make the large size, which uses 11 sheets of paper. Getting the connected papers into a circle shape wasn't hard, but I had to glue cardstock rounds in the center to keep it together in the center. Which involved trying to hold it together with one hand and applying hot glue with the other.
I had to buy several packs of cardstock with a bunch of other colors to get enough orange sheets, but the packs were on sale at Jo-Ann's for $1.99 for 50 sheets. I used the Silhouette to cut out the cat and pumpkin faces as well. I think these would look great as party decorations… they look a little odd just hanging out in my kitchen. But now I'm trying to think of other accordion fold paper projects to do now that I know it is so easy with the Silhouette!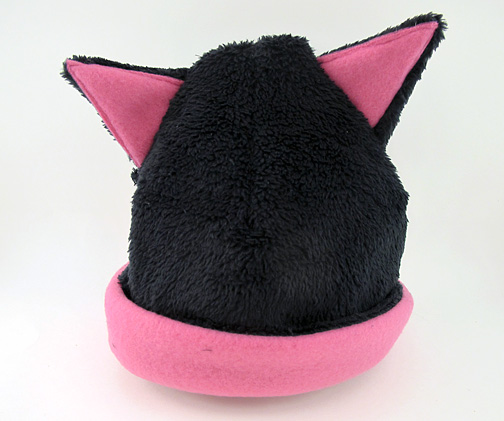 My other black cat project was a gift for my co-worker's daughter, who just turned four and is going to be a cat for Halloween. She probably already has a costume, but just in case it is really cold (as it often is), she might like this hat for trick-or-treating. This hat actually started out as a stenciled t-shirt. Really! I picked up some orange t-shirts thinking I would make her a little Halloween-themed shirt with her name on it, but I made the mistake of buying an extra one for Parker. And then I accidentally stenciled HIS name on her shirt. I tried to salvage it by cutting off the bottom of the shirt (with the name on it) and attaching more fabric to make a little dress, but it looked strange. So then I decided to make this hat, which was quite easy. Except for when I sewed one of the ears on backwards. Sigh. So much for quick, handmade gifts.