PLEASE READ this carefully before asking me to email you the printable files!
(Welcome new readers! I also have a round-up of other Valentine ideas HERE. )
If you're a frequent reader of craft blogs, you've no doubt seen those cute Valentines that feature a photograph of a child with an outstretched fist, and a lollipop stuck through the picture so it appears as if the child is holding it. (There's a great example HERE at 24-7-365).
If you're a frequent reader of craft blogs AND you have a LEGO Star Wars obsessed child like I do, you might also have been excited to see THIS Valentine by Meg at Brassy Apple, which uses a glow stick stuck through the card to look like a light saber. I love this idea, especially because it doesn't involve more candy. And everyone loves glow sticks, right?
Both of those ideas were floating around in my head when inspiration struck. Why not combine them?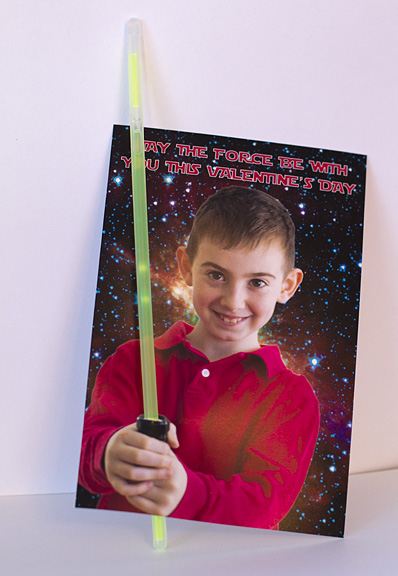 I took a picture of Parker holding a flashlight, then used Photoshop to get rid of the background. I replaced the background with an image I downloaded from the multimedia section of the NASAwebsite, and added the text. (The font is a free font called Star Jedi)
I also experimented with taking pictures of one of his Star Wars LEGOs, and it turns out, Parker liked that better, so we will probably use those for his cards.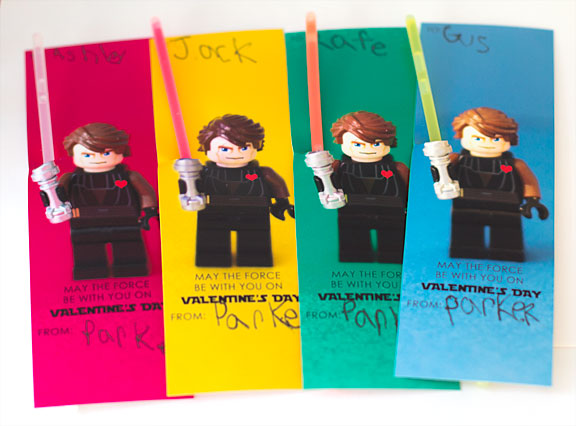 If you'd like to make your own, I created two printable PDFs. One has four cards on it, each with a different background color. The other has four cards, all with white backgrounds, so it won't use up as much ink to print.
LEGO STAR WARS VALENTINES (COLOR)
LEGO STAR WARS VALENTINES (WHITE BACKGROUND)
PLEASE READ THIS CAREFULLY before you ask me to email you the files and make sure you have tried both methods. Either click on the links above or:
If those links don't work, try these. (it will take you to another page on my blog, and then click the SECOND of the two lines… the top one isn't a link, the bottom one is, but I can't figure out how to get rid of the top one). I know some folks are still having trouble, but I think it just depends on what kind of computer you're using, which browser etc. Sometimes I have trouble with Explorer, but if I switch to Chrome, it's fine. I've been emailing the files to those who've asked, and hopefully I haven't missed anyone.