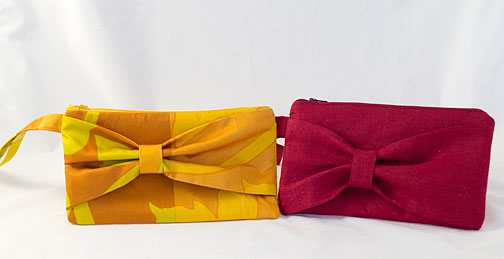 I've been wanting to try the bow clutch tutorial at Elm Street Life for a while now, so I decided they'd make great gifts for my son's two teachers. I followed the tutorial exactly for the red version, even using the same kind of fabric (linen). I wasn't quite happy with how I ended up with visible stitching on the lining near the zipper however (though that is really my fault for using red thread and a gray lining, and not thinking about the thread color). So for the yellow version (which uses some of the great Merimekko fabric I got last year), I used the zipper instructions from this tutorial at Flossie Teacakes instead.
While I do think that method results in a neater final product, I found it very tricky to figure out where to sew when the zipper was enclosed in the "sandwich" between the lining and outer fabric. I wish there was an easier way!
We tucked a book store gift card into each clutch, and Parker made cards for his teachers. He gave the gifts to his teachers this morning (the last day of school!), and brought home two thank you notes! So it appears they were a hit!