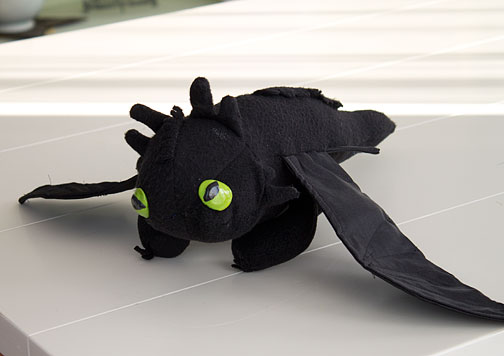 I thought this might be the year I would NOT make my son a stuffed animal for Christmas. Previous birthday and Christmas projects include Huckle, Hobbes,  the Cat from Outer Space,  a penguin, and some Angry Bird critters, but I thought maybe he was getting too old for that stuff.
But Parker is a huge fan of the "How to Train Your Dragon" series of books, as well as the movie, and when I saw this sewing pattern and tutorial by Katy A. at a site called Plushify, I changed my mind. Her version of Toothless the dragon was so cute, and I already had all the materials on hand.

I was glad I had some experience making stuffed animals before doing this project, because the instructions are rather brief. But I am so thankful that someone took the time to come up with what is a fairly intricate pattern, including directions on how to make the eyes out of polymer clay. It didn't take too long to make, but I waited til the last second, so on Christmas Eve, I was still hand-stitching and stuffing the legs.
I admit I wondered whether it was worth the effort when I saw how over-the-moon thrilled he was with the large Ninjago LEGO kit Santa brought. But he loves his Toothless, too, and several times throughout the day said to me out of the blue "I love my Toothless. Thank you for making him for me." And as you can see from the above photo, just two weeks after Christmas and Toothless is already showing some wear and tear from being snuggled. (Should've used anti-pill fleece!)
I'm glad he's still my little boy.