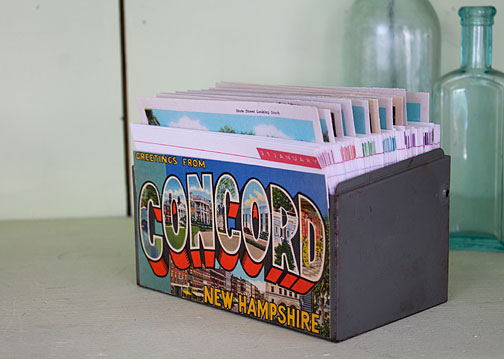 Inspired by this project at Design Sponge, I made two vintage postcard calendar sets for friends for Christmas. The idea is that there is one card for each day of the year, and you can use it either as a multi-year calendar or journal.
 For my local friend, I used postcards of Concord, N.H., where we live. My other friend lives on Signal Mountain, Tenn., but grew up on nearby Lookout Mountain, so I made this set for her: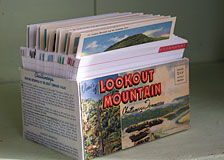 Instead of cutting up the postcards and index cards, I used 4X6 index cards and larger boxes so I could use the full-size, horizontal postcards as the month dividers. For the Lookout Mountain version, I glued the cards to larger pieces of cardstock so they would stick out of the top of the box. For the Concord version, I scanned the cards and printed them, leaving extra space at the bottom so the cards would stick out.
I purchased both sets of postcards on eBay. In both cases, they were not individual postcards, but rather a souvenir packet of cards all attached to each other. While this meant that the cards were printed on both sides, and were slightly flimsier than heavy postcards, they were very affordable _ $5 for each set. And since I scanned the cards so I could print and use the images from both sides,  I now have the images if I want to use them for future projects as well.
I did try to print the dates using a cheap date stamp and ink pad, but I found it so difficult to get a clean printing that I was throwing out more cards than I was saving. So I ended up typing each date in Photoshop (using a font that looks like those old punch labels), printing them on sticker paper, cutting them with my Silhouette and then peeling and sticking them onto each card. That was not a quick process, but easy once I got going. I alternated by month in terms of which side I stuck the stickers on, so the cards would be even when stacked in the box.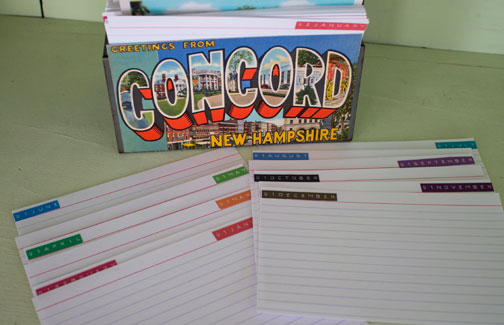 I found the metal index card/recipe box at a yard sale, but had to remove the cover because it wouldn't close once all the cards were inside. If I had more time, I would've searched around for a bigger box so the cards weren't so jammed in. For the other version, I just took a cardbox box and cut into one side to make it a bit smaller (and glued it back together), then covered the outside with the front of the sounvenir card pack and print outs of the descriptions that were printed inside the card pack.
Both of these were delivered late, but given that they can be used for at least the next five years, maybe I'm actually EARLY?