Last week we took our annual trip to Miami for the South Beach Wine and Food Festival. My husband writes about it every year for AP, and I tag along to help out. It is such a nice break from the long New Hampshire winter, though the celebrity food scene isn't really my "thing." This trip coincided with the official announcement of Jason's next cookbook, which will be the first book published by Rachael Ray's new imprint with Atria Books. Very exciting! Here's Rachael with Jason and Parker, who insisted on "dressing up" in his button-down shirt and tie.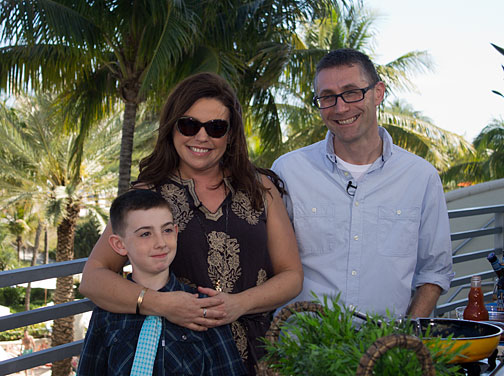 I, meanwhile, was wearing my latest "use it or lose it" creation. This skirt allowed me to accomplish two goals: finally using this pretty fabric that my friend Annmarie gave me more than a year ago, and finally making something out of "Sew What! Skirts," a book I purchased even longer ago than that. I forgot to take a picture of the other side, but this is a reversible, wrap-around skirt. Though this book is all about using your measurements to make a pattern, I cheated a bit and used a pattern from another book (more on that later) since I already knew it was the right size. I wasn't originally going to make the skirt reversible, but I worried that the floral fabric was too thin, and making it reversible not only gives the skirt a nice weight, it's easier to sew (no hemming!), and I get two skirts in one! (The other side also helped my stash-busting goal… it is leftover light gray fabric from the whale pillow I made almost two years ago!)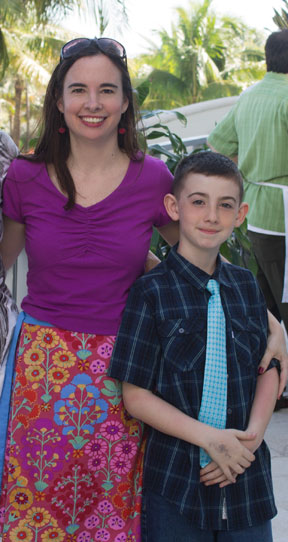 Rachael Ray actually complimented me on this outfit!
Here's a better view of the whole skirt from a different day.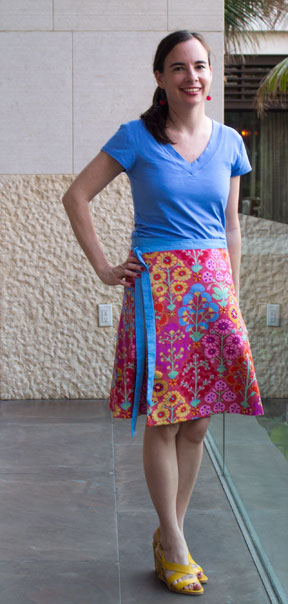 I also wore another skirt I made using the bias skirt pattern from the book "One-Yard Wonders.", again using fabric from my friend Annmarie. I actually made a different skirt with this fabric last year using an online tutorial, but I was never happy with the way it hung, so I ripped out the side seams and waist and re-made it using the One-Yard Wonders pattern. Very, very simple. It's a tad short because I had to cut off the original waist, but the shape is much better.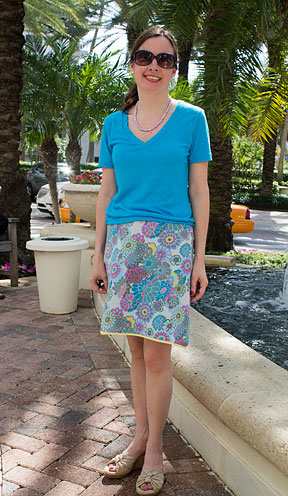 But now we're back home in snowy New Hampshire. Though our favorite ice cream place re-opened for the season while we were away, so spring can't be too far off!