After months of saying he wanted a Harry Potter-themed birthday, Parker changed his mind and went with Percy Jackson instead. I was a bit disappointed, but I got over it, and we put together a great party! I was surprised to see how much inspiration there was online. While I don't think Percy Jackson fans are quite as obsessed as Harry Potter fans, there certainly is an active bunch of them out there.
Here's a great tip for designing party invitations with popular characters: Search for screen-saver or "wallpaper" images. I found several Percy Jackson wallpapers, including THIS one, which I used for my invitations. It was perfect: just the right size, with plenty of blank room to add the text.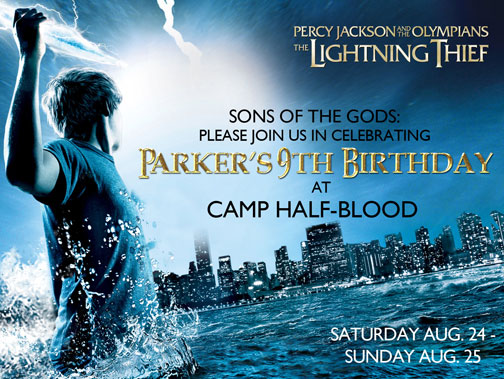 I printed the party details on the back, inspired by the text of the invitation I found here, at The Peanutone's Weblog.  (I've changed the text here to remove our personal details)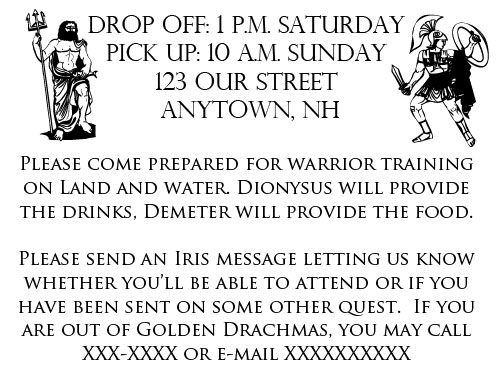 Like we did last year, we invited a bunch of Parker's buddies to our summer cabin for a sleepover. So that was the perfect setting for "Camp Half-Blood."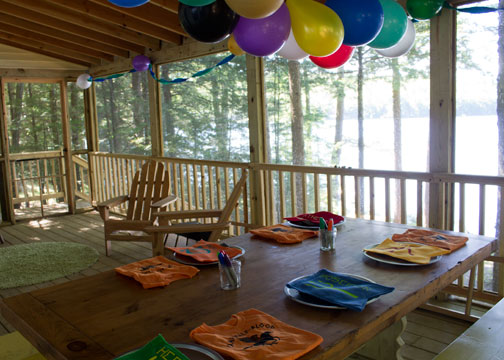 I used my Silhouette machine to make t-shirts for each boy, using iron-on vinyl and orange t-shirts from Target. I downloaded the design here, from a Percy Jackson fan site, and it worked great.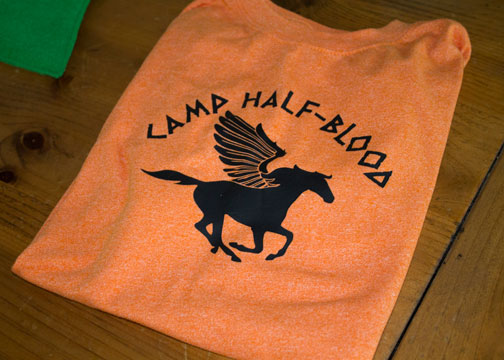 Many of the other ideas came from the "a team" blog's Percy Jackson party post. We bought metal pizza pans at the dollar store, and my husband screwed pieces of strapping/webbing from the fabric store to make the handles. We gave the boys the option to decorate their shields with Sharpies, some did, some didn't.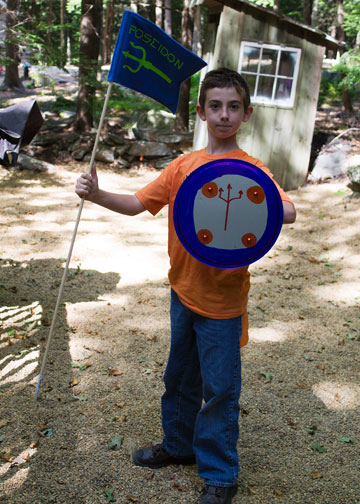 Parker assigned each guest a different parent/God, and I used my Silhouette machine and iron-on vinyl again to make flags with their names and symbols. (I forgot to reverse the image/lettering on some of them before cutting, so that's why the names are on different sides and in different directions. Oh, well.) Capture the flag was a bit hectic _ I think everyone wiped out at one point or another in the woods or in the gravel driveway, and there were some tears, but everyone recovered quickly!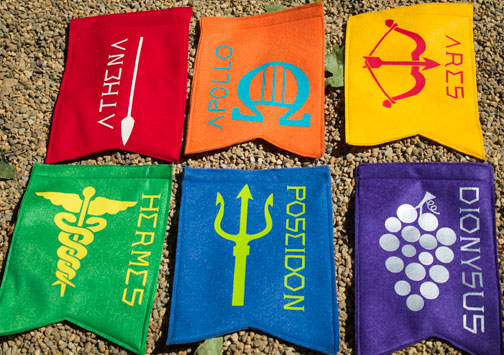 In an attempt to keep the sword fighting a bit contained, we had the boys pair off and "fight" for one minute (no hitting each other directly with the swords, just the shields) and then switch partners. They were pretty exhausted after a few rounds! The swords are pieces of PVC pipe covered with pipe insulation and duct tape.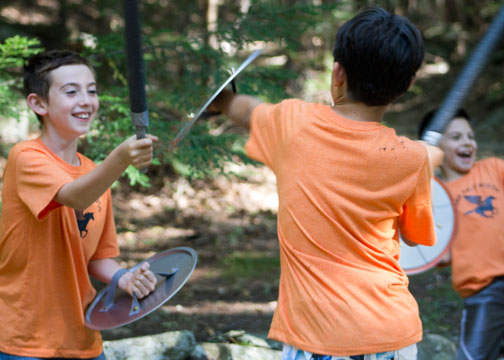 I knew I would not have the time or patience to make 3-D pinatas, but I did like the idea of each boy having his own pinata monster to battle. I was thrilled to find this tutorial  for a round, flat-front pinata. And while it was a bit time consuming, it was fairly easy to make five pinatas over the course of a few evenings. I did not paint mine, because I found that I could cover up the newspaper well enough with the colored tissue paper. And while I did do one with the fringe going around the side, that seemed too fussy for mass production, so I just wrapped some streamers around the sides.
As I've mentioned before, my day job is as a reporter, so it was funny to realize that as I was ripping up the newspaper to make these pinatas, I came across one of my own stories! Ha.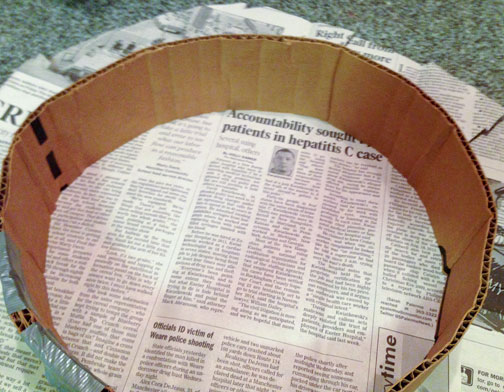 I originally planned to print out images of each monster (Minotaur, Medusa etc), but then I decided to let the boys draw them themselves, which worked out great. (I forget which monster this is: Cerberus?)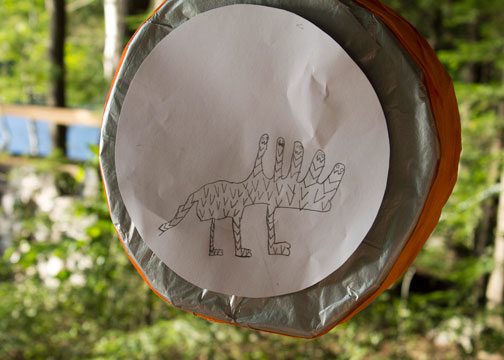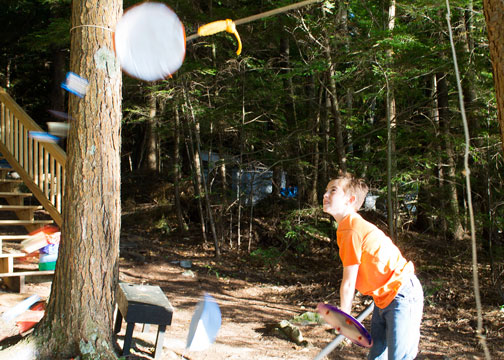 My husband, the food editor, was in charge of the cake. He was a bit disappointed in the frosting _ it did not swirl and swoop like we planned. But it tasted great and the boys loved it.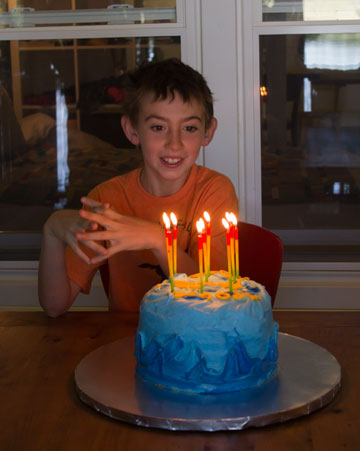 After some swimming and a viewing of the first Percy Jackson movie, the boys were all asleep by 10:30 p.m., and they slept until after 8 a.m. That alone made it a very successful party in my book!