My son is obsessed with Minecraft, which means I spend a lot of time trying very hard not to appear utterly bored when he wants to talk and talk and talk about it ALL THE TIME. But when he got invited to a birthday party for a girl he may or may not have a crush on, and he told me she also loves Minecraft, I was happy to make her a Minecraft-related gift.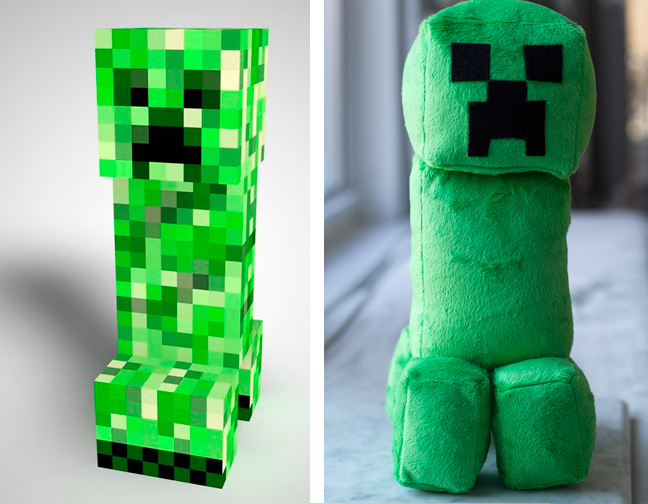 (Creeper graphic by Danixolider on deviantART)
I quickly came upon this tutorial for a plush Creeper on Instructables.com. Instead of fleece, I used some kind of "cuddle" fabric from Jo-Ann's. (Going against my pledge to avoid buying new craft supplies. But I used a coupon, so we're talking maybe $2 worth of fabric). Before cutting out the pieces, I ironed very light-weight fusible interfacing to the back of the fabric which made it easier to cut and sew because it added a bit of stability. Still, there are bits of green fur all over my craft room …
Unlike the tutorial, I also sewed everything by machine instead of by hand, except the last bits of closing up the openings after stuffing. And I used felt shapes ironed on with fusible webbing to make the face.
Here's a little tip that I figured out for the first time, even though I've had my sewing machine for about a decade. Because this project involved sewing basically a bunch of cubes, I wanted to start and stop sewing 1/4 inch from the ends of each piece. Duh! There are markings on my sewing machine foot that make it very easy to do just that. For years, I've just been sort of eye-balling it, when all along there were these handy little guides.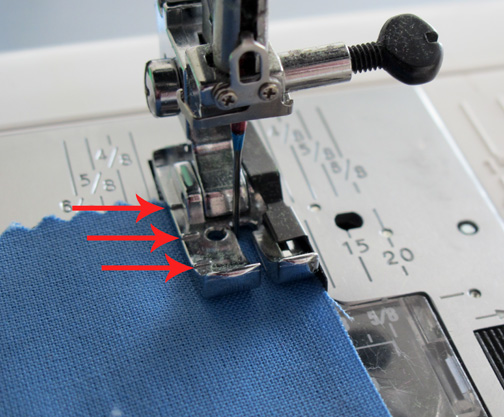 I also was able this week to cross another project off my list: the long lingering "Passport Jacket," one of several Sew Lisette patterns I purchased back in 2010.
I intended for this to go with the dress I made, but now that it's done, I don't like how it looks with the shape of the dress. I think something with a fitted skirt looks better, and I like how it looks with jeans.
This jacket is probably the most complicated garment I've ever made, and it was mostly trouble-free, except the facing along the back of the collar is all bunched up for some reason, even though I unpicked it and sewed it twice. And I got all the way to the last step, hemming the sleeves, when I accidentally cut where I meant to fold, so the sleeve hem is tiny.
Overall, I think I  like it, though I can't tell whether it is supposed to stay closed with one button or swing open … it tends to swing open a bit.