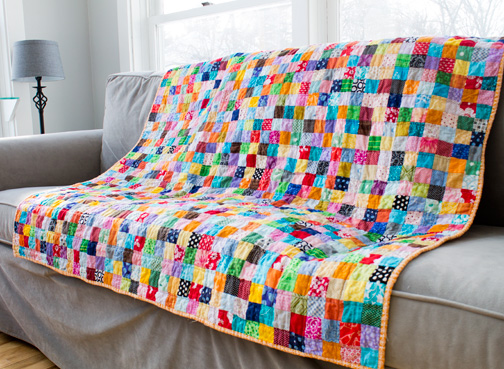 I can't believe I started this quilt two years ago! It originally was part of my "Use It or Lose It" challenge in early 2013, when I was determined to use up a lot of my scraps and other miscellaneous craft supplies. And then it made a comeback in 2014, when I challenged myself to finish  a bunch of works in progress. At some point in the last year, I did finish the quilt top but it sat untouched for many months. Finally, I pulled it out last week and finished it in a few days!
I used this tutorial at Red Pepper Quilts. In retrospect, I wish I had not included brown or black, or maybe stuck to a few bright colors. But I'm trying to remind myself that the ultimate goal was to just use up a lot of scraps.
I was tempted to bring this outside and lay it on one of the massive snowbanks in my driveway, but it is minus 19 degrees this morning. And I couldn't disturb this cute kitty!